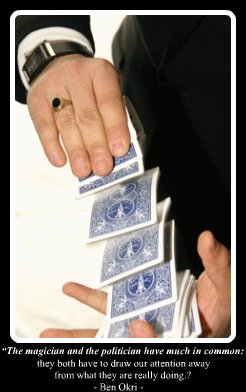 Rule: Never perform card tricks for the people you play poker with.
- Proverb -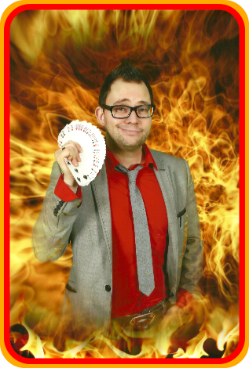 Magic is believing in yourself, if you can do that, you can make anything happen."
- Johann Wolfgang von Goethe -
Adam is a master of his art; breaking the boundaries of magical entertainment and taking it to the next level.
With over 26 years of professional magic experience (I know he looks too young to have that much!), Adam has combined his background of magical expertise, comic timing and cheeky character with his uncanny ability to perform to any audience on any level creating an engrossing and captivating form of entertainment.
Adam performs at events all over the UK and abroad such as weddings, private parties, corporate events, trade shows, galas, charity events, tourist attractions, product launches and for many celebrities. Using his acting skills and vast array of costumes, Adam can even theme his act for you, if needed!
Adam's truly remarkable magical skills and expertise mean he can and will make your event stand out like no other and be remembered forever. Whether it is close-up, stage, corporate or street, Adam's magic is just the treat.
Just A few magical pictures to whet your appetite!
For more magical information go to the Contact Adam page or call 07752064100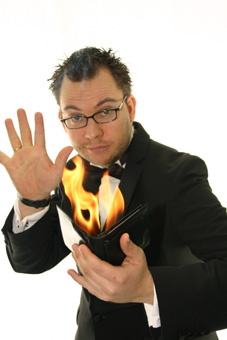 Adam Hoffman (Professionally keeping the world entertained since 1993)
(Below) Adam blows Danny Dyer away with some magic at a private VIP party, Danny's reaction is priceless! Be warned, some bad language is used in this video
(Below) Adam Performing some magic to Rob Brydon after his appearance on The Rob Brydon Show
"Love and magic have a great deal in common. They enrich the soul, delight the heart. And they both take practice".
- Nora Roberts -
(Below) Adam Entertaining 1940's style with some comedy magic
"Anyone can learn the theory of magic, but the desire to amaze and amuse your audience is something you are born with".
- Adam Hoffman -
Go on spread the magic and give our like page a little like www.facebook.com/keepcalmandbookus