Please note this site is not up to date and is undergoing a complete makeover and update, so please see our like page www.facebook.com/keepcalmandbookus or contact us for up to date info, details and prices thanks very much.
Also please note that Tom Swift is no longer affiliated with Adams company and any images or mentions are only there untill the updated site is complete xxx
Adam was born at a very early age and since then has always had the gift to entertain.
Hello and welcome to my website, here you can find an extensive amount of entertainment at amazingly reasonable rates. Adam's events company, Ad-Events can cater for any event you are planning. He can supply all kinds of entertainment and equipment including a wide range of the following;
Walk about costume characters, street performers such as clowns, jugglers, stilt walkers, look-a-likes, fire eaters/breathers, human statues, balloon modellers, models, caricaturists, face painters, DJ's, poi experts, puppeteers, magicians, musicians, actors, singers, dancers, belly dancers, strippers, burlesque dancers, origami experts, silhouette artistry, after dinner speakers/hosts/comperes, speciality acts, team building games, tarot readers, costumes, circus skills, giant games, inflatables, casino tables, photo booths, rude balloon modellers, tour bus, party limos, stunning private shot girls, hunky shot guys, kiss and stripper-grams, ventriloquists, sexy clowns, sexy stilt walkers, raunchy fire acts, racy angle-grinders, party bus, cheeky magicians, UV and body painters, comics, impressionists, alternative acts, celebrities (real one's not look a-likes), models, strippers, showgirls, promo staff, drag acts, private safe cabs/mini buses, red carpet paparazzi, giant walk-about inflatables, Punch & Judy shows, puppeteers, animal encounters, unicyclists, roller-skaters, illusionists, mind readers, make-up artists, nail technicians, special FX artists, arts and crafts, cake makers, town criers, Toastmasters/Master of ceremonies, impressionists, cue line entertainment, look-a-likes, bands, one man bands, strolling musicians, singing waiters, barbershop quartets, backing singers, choirs, chorus dancers, animal acts, historical acts, reenactors, seasonal acts, themed shows, magic/acting/dancing/singing/music workshops, penny arcade machines, interactive games consoles events, candy floss/popcorn machines, chocolate fountains, side stalls, photographers, videographer, camera crew, film editor, extras, sound systems/PA's, lighting, set, props, costumes, staging.
You name it, and I can and will supply it! If I can't do it, I'll know someone who can. I do like a challenge! For weddings anniversaries, retirement do's, birthdays, staff parties, proms, leavers balls, dinner parties, pubs, clubs, themed events, wine bars, hotels, retreats, holiday parks, restaurants, private clubs, retirement homes, galas, openings, launches, banquets, stag/hen do's, street events, festivals, fetes, fairs and any other celebration or event you could possibly think of!
I have organized and run many events all over the UK from small private do's to large scale big company events and always deliver a high standard of excitement for every occasion.
I am always looking to expand my business and take on more staff and would love to hear from you if you have the appropriate skills and attributes, or are keen, enthusiastic, willing to learn and think you have what it takes. Please do not hesitate to get in touch or send me your CV's, show reels, info etc. So what are you waiting for? Come be part of the amazing all round entertainment experience and join a well-established long running company.
Have fun exploring my website!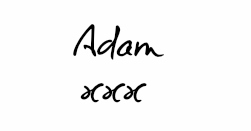 "In this day and age I think if you're going to book entertainment it's best to go with someone who has public liability insurance. It makes great sense and at the end of the day it good peace of mind to know they are covered for every eventuality".
- Adam Hoffman -
"You wanna hurt me? Go right ahead if it makes you feel any better. I'm an easy target. Yeah, you're right. I talk too much. I also listen too much. I could be a cold-hearted cynic like you, but I don't like to hurt people's feelings. Well, you think what you want about me. I'm not changing. I like me. My wife likes me. My customers like me. 'Cause I'm the real article. What you see is what you get".
- John Candy -
So if you want your event to be unique, entertaining and memorable then book Adam now, before somebody else does! Get in touch on the Contact Him page or call 07752064100 for more information
"I am so lucky to be doing a job I love so much, not many people can say they are truly happy in their job! Entertaining is what I've always wanted to do, and will always want to do, I really do love my work, and if I ever stopped loving entertaining, well that would be the day I stopped doing it, I could never just go through the motions if I did not love it anymore, it would not be fair to me, my audience, and my art".
- Adam Hoffman -
Adam Hoffman (Professionally keeping the world entertained since 1993)
Go on give our like page a little like, you know you want to! www.facebook.com/keepcalmandbookus