Tis The Season.....................
"Never worry about the size of your Christmas tree. In the eyes of children, they are all 30 feet tall". - Larry Wilde -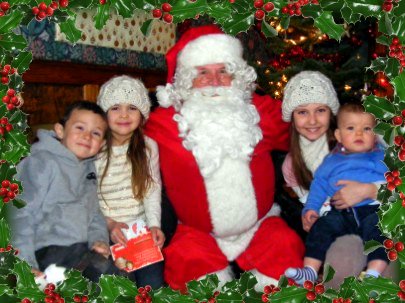 "Like snowflakes, my Christmas memories gather and dance - each beautiful, unique and too soon gone".
- Deborah Whipp -
"I once bought my kids a set of batteries for Christmas with a note on it saying, toys not included".
(Above) Adam has made many TV appearances playing Father Christmas, most recently on the Rob Brydon Show, this time he was allowed to.....Well, kind of be himself! (Please note the santa suit Adam is wearing is not his. Adam's is much better, see photos)
(Above R&L) See in both of these clips, Adam hosting the 2011 Dartford light switch on with an array of just some of his amazing entertainment staff.
Not only did Adam host this event, he also planned and wrote the stage spectacle and provided all of the entertainers.

Adam has always loved Christmas. From the moment the calendar reads December 1st, he is like a child again, right up to Christmas morning when he still asks, "has He been?!"
So it's clear to see that with all his passion, excitement and enthusiasm for the festive season, Adam knows how to deliver a Christmas entertainment parcel tailored just for you.
Christmas is an important time for children, so let's start with them.
Adam can organise the perfect Christmas Kids Party with a choice of festive magic show, themed games, party dances, Christmas interactive storytime, balloon models, Christmas disco and a special visit from Father Christmas himself! Or why not combine all of the above to make the most seasonal party ever? Pefect for children's parties, schools, nurseries or Christmas fetes and fayres.
How about Breakfast With Santa? Adam can make this possible, all you need is a venue and Adam and his team will do the rest. Picture the scene - the kids arrive, are seated and served breakfast by one of our festive entertainers. During this they will be kept entertained with balloon modelling and a selection of face painting, stilt walkers, jugglers and a giant walkabout inflatable snowman! Once suitably fed, they are treated to a festive magic show and then the real magic begins when Father Christmas visits with presents for every child. Father Christmas will take a seat and will call the children up by name and they will receive a gift - a perfect photo opportunity time. To round this amazing morning off, Father Christmas will lead all the entertainers in one last party dance for all to join in with. This is perfect for department stores and shopping centres who can off set the costs by selling tickets in advance. This also works well for large groups of friends and family.
Santa's Surprise Visits. Imagine the looks on the little one's faces Christmas morning when they receive a knock on their door, only to be greeted by Father Christmas! Ladened with presents and good cheer, accompanied either by Miss Christmas, one of the elves or a Christmas fairy who will take a photo that will be printed and posted to you with a personalised letter to your child(ren) from the big FC himself! You can arrange for Santa to bring any presents, ranging from little gifts to their main present. Preparation is the key and between you and Adam, no details will go missed to make it the most personal and believable visit ever. Christmas is all about the children and an actual visit from Father Christmas on Christmas morning to their very own house is something that you and them will share and remember for the rest of your lives.
(Spaces for Santa's Surprise Visits are VERY limited and gets booked up very quickly so don't delay, enquire today. Some visits can be made Christmas Eve if need be, again these are very limited)
Adam can also run and manage your Grotto for you and supply all the staff and supplies you need.The highly talented staff are all children's entertainers so you won't just get your average seasonal workers, you'll get super seasoned performers. Which will make your grotto stand out from the rest.
With Adam's Father Christmas you dont just get a guy in a suit, you get a highly trained actor, with a great Santa voice, who's clued up on all the current trends, fashions and toys the kids will be asking for. He will also have an extensive knowledge of all things Christmas, from naming all the reindeer to what the Elves do and the tools they use! And even infomation about where Santa lives and how he gets in and delivers all the gifts! With the system he has in place he will know the children's name and information without having to even ask them! Magical! And talking of all things magical, being a professional magician comes in handy for the tricky disbelieving kids! The conversation would go a little like this - Kid: "You're not the real Father Christmas" Father Christmas: "Would you say the real Father Christmas is magic?" Kid: "Yes, the real one is magic!" Father Christmas would then do a magic trick to which the kids alway reply, "You ARE the real one!" And to this, with a wink, he would say, "Yes, but don't tell everyone".
When it comes to booking a Father Christmas don't go with the rest, go with the best! Even the adults will leave believing again!
Christmas is also for the child in all of us. Adam can provide the perfect Festive Package For Adults too. He can supply disco, close up magic, Rat Pack crooning or singing Santa, or all manner of themed entertainers and performers. This is perfect for everything from an office party to a family gathering, corporate treats, restaurants, bars and more.
A Clubbing Christmas. That's right, Santa likes to party too, so why not book him for your venue so he can boogie on down on the dancefloor, mix and mingle with your partiers who can also sit on Santa's lap or even be guest bouncer at the door, "Your name's not on the good list - you're not coming in". All in all, a novel way to enhance to your festive clubbing. Santa can be also be accompanied by queue line entertainment from juggling elves to stilt walking fairies and fire performers who will surely warm those cold winter nights. How about sexy Miss Christmas shot girls? Or some tantilizing pole and podium dancers? -Those girls are definitely on the naughty list! If you want to make your club, bar or establishment stand out from the rest this Christmas, you know who to contact.
Something that Adam has perfected and honed over the last 12 years is Town Centre Light Switch Ons! He can supply walk about entertainment, stage acts, celebrity guests, Father Christmas (of course) and Adam has also been known to host a Switch On or two in his time.
Or why not make life easier and get Adam to organise the whole shabang for you. He will liase with the town Council and any other sponsors ie. town centre magagement or shopping centres and deliver the best show your town could dream of. Adam even writes, records and produces everything needed for the big lead up to the lights and Father Christmas' dramtic arrival! No town too big, no town too small, Adam will cater for all.
Extras, please note Adam and his team can also, make all manner of Christmas cakes and treats for the holiday season, offer an outstanding giftwrap service and suprise gift deliivery service, provide you a full or mini panto, offer exellent make & take arts & and crafts with a festive theme, personalised or standard letters from Father Christmas, entertainment and staff for store launches, Christmas store promotions, in store entertainment, Christmas demonstrators and leaflet distributers, Father Christmas arrival events, pa/sound/lighting/music for Christmas events, snow machines, record voice overs and other pre - recorded Christmas annoucements, very fun and varied Christmas-grams to your door! for example musical Elf-gram, singing Santa-gram or sexy Miss Christmas-gram! And theme most of the entertainment listed on the other pages of this website to suit Christmas. If you have a Christmas idea, no matter how far fetched, Adam will make the idea a reality!

So whether it's a small family house or a full scale town centre, Adam has definitely got Christmas all wrapped up for you.
Don't forget, Adam and his team can cater for any other seasonal events too! If you, don't believe him just ask Dracula or the Easter Bunny!
Tis always the season to book Adam! So for more information, go to the Contact Adam page or call 07752064100
"I love Christmas, it truly is a magical time of the year"
- Adam Hoffman -
Adam Hoffman (Professionally keeping the world entertained since 1993)