The Total Wedding Package...............................................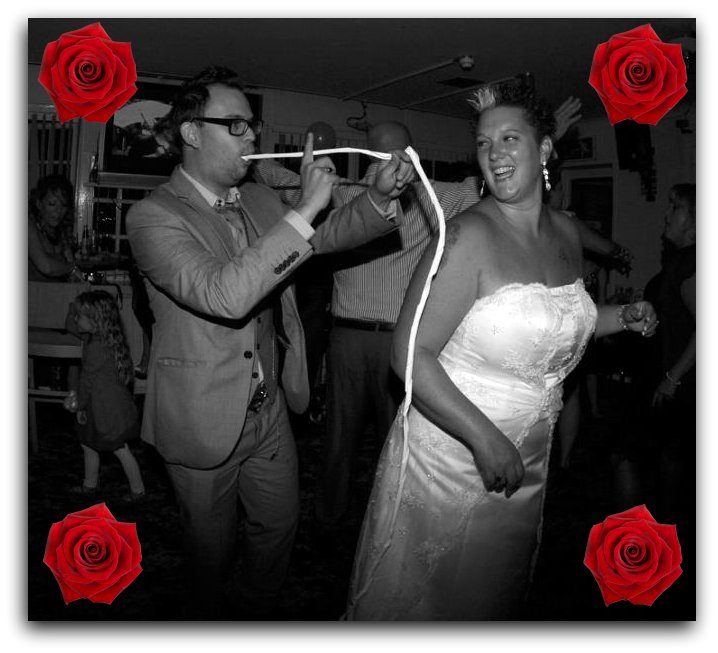 "I love being married. It's so great to find that one special person you want to annoy for the rest of your life".
- Rita Rudner -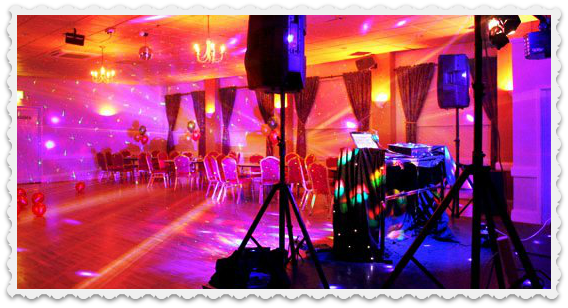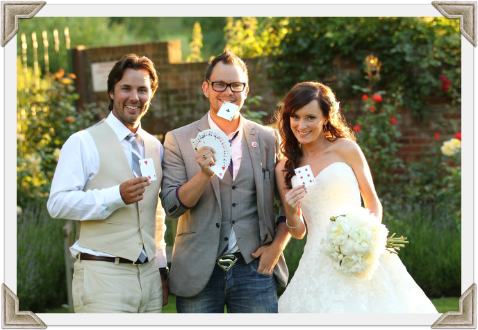 "A successful marriage requires falling in love many times, always with the same person".
- Mignon McLaughlin -
Adam has been to thousands of weddings over the years. As a guest, a friend, family member, page boy (very young at the time, I might add), best man and numerous times as an entertainer. To cut a long story short (bit late for that now) he has seen almost every kind of wedding you could possibly think of. From small intimate gatherings to full-scale 'Posh and Becks' style celebrations, Adam has sat through some great weddings and some terrible ones! All in all, he knows weddings, even more so- wedding entertainment! What works, what doesn't and what should work if done right. Over the years in the business, Adam has come to the conclusion that the general consensus seems to be that the bride and groom-to-be want as much content in their wedding as possible, while spending the least amount of money as possible. But by the time you have booked a venue, the church, bought the dresses, the rings, spent vast amounts of money on the food, drinks, hotels, honeymoon, wedding transport, the cake, flowers, invites and countless other wedding accessories, you come to the sudden realization that there are not many pennies left in the pot, and you still haven't sorted out any entertainment. So what do you do? Most times you say, "Oh well, let's just get a cheap DJ and be done with it!" Well if that's you -or you know someone who's going for that option- then STOP!!! We understand that weddings are a costly experience but they are also a joyous one too, so that is why we have so much more to choose from in our many exciting entertainment packages! (Scroll down the page to see for yourself!) We will be able to cater for all your wedding entertainment needs and more. We offer quality, professional entertainment at competitive prices, tailor made to your individual needs. No where else will you find so much entertainment content under one roof. Need a DJ? A singer? A close-up magician? Children's entertainer? A master of ceremonies? For that alone, you'd have to hire five different entertainers, which would end up costing a lot not to mention taking up a lot of your time. With us, it's all right here, and the more content you book, the better the savings!
We are ready to make your wedding, the wedding you really want it to be (without having to re-mortgage the house!)
Now it's just up to you to choose how much you want from us...
Calling all Brides and Grooms, if you need to try before you buy -so to speak- then do not worry, Adam offers informal meet ups in the comfort of his or your own home for any perspective clients where you can see his work in person, ask as many questions as you like or just use it as an excuse to eat his biscuits and drink his tea! Or feel free to come see him at any of his live events or wedding fairs (for more infomation on these contact him or take a look at the Where's Adam page)
(Below) There was a quiet spell at a wedding fair where Adam was exhibiting, he was sat there twiddling his thumbs when he heard some lovely music. What followed next was completely improvised... Enjoy!
"Monica Seles: I'd hate to be next door to her on her wedding night".
"This day I will marry my best friend. The one I laugh with. Live for. Love. When you realize you want to spend the rest of your life with somebody, you want the rest of your life to start as soon as possible Now join hands, and with your hands your hearts".
- William Shakespeare -
WEDDING ENTERTAINMENT
Here at Keep Calm And Book Us, we strive to bring you the very best in entertainment and value. Why source all of your entertainment from various companies that charge fees and commission, or have to deal with many different performers and specialists when you can get it all in one highly skilled and very professional place! Less time, fuss, worry, people to deal with and of course less cost. So if you're going to do it, then do it right and just Keep Calm And Book Us.
Below are some of our Wedding packages, please remember that all the entertainment listed, and more can be hired individually as well as in these discounted packages.
Our exclusive Wedding Entertainment packages 1-4 are based on 5 hours, Package 5 is based on 6 hours and Package 6 is all day! Any extra hours up to 12.00midnight are charged at £50.00 per hour, then after that time £100 per hour or part there of, with the exception of Package 6 that can go on till 1.00am at no extra charge. All our packages can be tailor-made to suit your needs and prices exclude petrol cost. Book our Gold, Platinum, Crystal or Diamond packages and you can hire/book any of the Extra Wedding Entertainment & Hire Items at greatly discounted prices.
Fabulous New Stuff!
New For 2019 - Fantastic 4ft light up LOVE letters. Why not add that extra lovely wow factor with our magnificent eye-catching love letters. Great In front or behind the top table during the wedding breakfast, or make an eye catching statement inside the entrance to your venue as your guests arrive, or let them light up the evening reception as they dress the main room, they do look wonderful in front of the DJ (depending on what else you've booked us for we could even move them to a couple of different locations during the day) Normal hire price £150, but if booked with any of the first 5 packages you get them at the discounted hire price of only £100.
New For 2019 - Up lighters - Our top of the range professional wireless room up-lighters. They are the perfect addition to your venue for that extra bit of wow, class, light and atmosphere. Normal hire price for 6 up- lighters is £200, but if booked with any of the first 4 packages you get them at the discounted hire price of only £100.
New For 2019 - PA System/Mics - Our compact powerful and extremely high quality Bose Pro PA is perfect for those all important speeches, announcements and even for playing background music on. Comes with two excellent cordless hand held mics as well. Normal hire price is £200 for the day but if booked with packages 1-5 you get it at the discounted hire price of only £100.
Extra Wedding Entertainment & Hire Item
(Discounted If booked alongside any Wedding Entertainment Packages)
Burlesque Performer
Stilt Walking
Toastmaster
Fire Performing
Costume Character Appearances Children's Entertainment Room Balloon Modelling
Rollerskating
Face Painting
Decorative Wedding Trees
Wedding Postboxes
Sweet Table
Sweet Cart
Wedding Bunting
Button Bouquets
Button Hole/Pins
Fun Photo Stand With Props
Candy Floss Cart
Pop Corn Cart
Sweet Trees
Sweet Favours
Heart Tower Stand With Chocolates Lifelike Bride & Groom Balloon Models Bunting
Top Of The Range Room Up-lighters 4ft Light Up LOVE Letters
PA System With Mics.
(If you would like photos, prices, more information on any of the above items, just ask)
Ok now on to the wonderful Wedding Entertainment Packages, please remember these are just guidelines, they are not set in stone, we can taylor any of the packages to suit your individual needs. After all it's your big day! So if there's something you don't want, change it, and if you want something extra then add it.
WEDDING ENTERTAINMENT PACKAGES
1 BRONZE PACKAGE- The Basics
Our state of the art professional Disco with all the songs that you require, a smart classy rig, with choice of different front cloths, clear crisp sound, excellent lighting, and most importantly a fabulous professional DJ to tailor the evening to your requirements, make the all important announcements, take requests and keep the party atmosphere going strong
(Something extra you want to add? Not a problem, just ask and we can price it up for you)
Cost - £350 for five hours
2 SILVER PACKAGE - Getting the party started
Our Bronze Package PLUS Balloon Models for kids of all ages!
(Don't want balloon modelling? Not a problem, you can swap this for our bespoke Wedding Postbox! And if there's something extra you want to add, just ask and we can price it up for you)
Cost - £380 for five hours
3 GOLD PACKAGE - Wow, what a wedding!
Our Silver Package PLUS a fantastic set of Rat Pack style singing,1 hour of wonderful Close Up Magic and 30 minutes of Children's Entertainment (ideally a separate room would be great for this).
(Something you don't want? Not a problem just swap it)
Cost - £650 for five hours
4 PLATINUM PACKAGE - Now that's what I call a wedding! (Our Most Popular Package)
Our Gold Package with extra Disco lighting PLUS an extra set of Rat Pack style singing or an extra hour of Close Up Magic or an extra half of each.
(Something you don't want? Not a problem just swap it)
Cost - £725 for five hours
5 CRYSTAL PACKAGE - The Mother of all weddings!
Our Platinum Package PLUS Toastmaster for the day including some extra daytime close up magic and Balloon Modelling, bespoke Wedding Postbox, Oh and why not, go on then have an extra hour of disco/ background music on us (up until midnight) also 6 top of the range professional room up-lighters (Something you don't want? Not a problem just swap it)
Cost - £980 for six hours plus Toastmaster during the day.
6 DIAMOND PACKAGE - The Mother of all weddings... And then some!
Guaranteed to blow all other Weddings away with the total wow factor! No one else can offer all this wonderful wedding entertainment at this amazing price. Our Crystal package PLUS fire performance, stilt walking set, another extra hour of close up magic and one other street style performer to meet and greet, mix & mingle and do sets throughout the wedding to keep you and your guests thoroughly entertained and a tastefully fun Burlesque routine (if you like). This package is not just 5 or 6 hours, we will be available for the whole day, that's right! From start to finish if need be (up till 1.00am), background music at the ceremony or entertainers greeting your guests as they arrive and then afterwards, usually when the photos are being taken. Entertainment and background music during the wedding breakfast, mics and PA for those all-important speeches. Then more entertainment during that lull before the evening. After that we keep the entertaining vibe going as the party picks up for the arrival of your evening guests and carry on until the end of your wedding. PLUS more Up Lighters, Sweet Table with loads of yummy sweets, Fun Photo Stand with props, 4ft light up LOVE letters, up to 4 Wedding trees and our exclusive Children's Entertainment Room (small separate room is needed for this).
(Something you don't want? Not a problem just swap it)
Cost - £1680 for the whole day, anytime from ceremony to carriages.
Don't forget if you've got any of your own ideas that we've not listed, then please let us know as chances are we already do it or know someone who can!
Want talk with us about your big day? Then come over to ours for a cuppa, homemade Cookies and a chat, we don't bite! Nor does our little Dog Hattie.
"There is no more lovely, friendly and charming relationship, communion or company than a good marriage".
- Martin Luther -
Not Just The Wedding
Why just stop at the wedding! we can also cater for the stag and hen night/weekend as well, with many of the above items and entertainers. Other great additions we offer, to make the stag and hen night/weekend go with a bang are rude Balloon Modellers, tour bus, party limos, stunning private shot girls, hunky shot guys, kiss and stripper-grams, naughty Ventriloquists, sexy Clowns, sexy Stilt Walkers, raunchy Fire Acts, racy angle-grinders, party bus, cheeky Magicians, UV and body Painters, After dinner speakers/hosts/compares, Comics, Impressionists, alternative acts, Look-a-likes, Celebrities, Models, Belly Dancers, Exotic Dancers, erotic dancers, Strippers, Showgirls, Burlesque Acts, Drag Acts, private safe cabs/mini buses, Promotional Staff, red carpet Paparazzi and many more interesting ideas to add to your wild and crazy night/weekend! Your wildest suggestions welcome.......we can supply! Book any or our Wedding Packages and receive money off on any hen or stag nights/weekends. So go on make it one to remember.
Also
Not only can we sort the wedding, the stag and hen nights/weekends out for you, many of the Wedding packages are easily transferable to wedding anniversaries, retirement do's, birthdays, staff parties, proms, leavers ball's, dinner parties, pubs, clubs, wine bars, hotels, retreats, holiday parks, restaurants, private clubs, retirement homes, gala's, openings, launches, banquets, festivals, fetes, fairs, corporate functions and any other celebration or event you could possibly think of.
So much to choose from for your event! Need more info? Then go to the Contact Adam page or call 07752064100
"Marriage can sometimes take 5 types of "Rings": Engagement Ring, Wedding Ring, Suffering, Enduring and from time to time feels like your in a boxing ring"
- Adam Hoffman -
Adam Hoffman (Professionally keeping the world entertained since 1993)