The Singer............................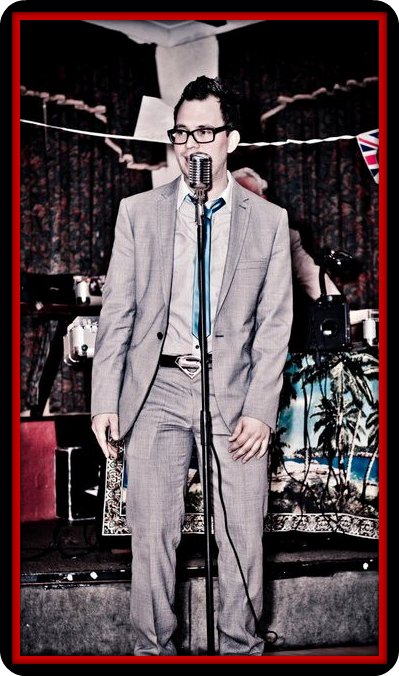 "I'd hate to be a teetotaler. Imagine getting up in the morning and knowing that's as good as you're going to feel all day."
- Dean Martin -
(Above) More singing antics at Chatham Dock,This time it's that beautiful 1940 song 'Let There Be Love'. Recorded my many artists but most notably recognized by Nat King Cole in 1961.
(Below) Adam keeps things swinging with a song made popular by Ol' Blue Eyes himself Frank Sinatra. This time Adam is entertaining at a War time function with U.S.O Shows.
(when asked what his golf handicap was) My handicap? Man, I am a one-eyed black Jew! THAT`S my handicap!
- Sammy Davis Jr. -
"You're not drunk if you can lie on the floor without holding on".
- Dean Martin -
(Below) Crowned Mr Vintage 2012 at Twinwood festival, Adam got the opportunity to perform on the main stage to thousands of vintage fans. Adam's all-time favourite singer is Dean Martin, so here he is singing a classic Deano song.
For all your musical moments and more information, go to the Contact Adam page or call 07752064100
Adam can sing various styles of music and many types of songs, but his first musical love is swing, and more so, the Rat Pack. Adam's fascination with the 1940's/50's music era started at a young age as that was the music his folks would play around the house (thank goodness, can you imagine what he would have been like if they were into Happy Hardcore?!) If truth be known Adam had learnt the Rat Pack songs and routines long before he could read and write (He still has trubble with the writting bit!) When Adam's singing career first took off, he sung and played drums and keyboard with two different bands. As Adam attended The Brits Performing Arts School, a fondness for musical theatre grew and his first musical double act was born. They called themselves, Me and My Shadow and performed musical numbers and routines. Through this time, he could not forget his first musical love and so left the rest behind and focused just on his crooning. And just like the guy with no rear-view mirror, he has not looked back!
Adam has performed his Rat Pack stylings all over the UK, singing well known classics from such legends as Dean Martin, Frank Sinatra, Sammy Davis Jr, Nat King Cole, Bobby Darin, Louis Prima, Harry Connick Jr, Michael Buble and many more greats. From small private functions to big concert halls and everywhere in between. Adam also performs with various wartime troops, reenactors and organisations.
The two compliments Adam always seems to receive from his audience are that his comedy manner reminds people of a young Eric Morcombe and that his singing voice sounds like Dean Martin. In Adam's opinion they are the best compliments he could ever ask for.
All in all, Adam's musical talents are the perfect addition to any party, function or event. If all that isn't enough, Adam can organise and manage a full-scale retro/wartime event, combining his own talents with that of the fantastic 40's/50's artists he works with. So what are you waiting for? Put a SWING in your step!
For more information and for price enquiries, click on the Contact Adam tab.
I love all those girls the same as they love me. I get thousands of letters a week from girls who love me.... Every time I sing a song, I make love to them. I'm a boudoir singer.
- Frank Sinatra -
(Below) Great day crooning at the Chatham Dock Yard event, and what lovely weather too, you would hardly think there was a war going on! Ok Daddy-O I hope all you
cool cats
enjoy this up beat groovy swinging tune, It's time for Sinatra's 'Bad Bad Leroy Brown'.
(Above) Adam busting out an impromptu spoon solo in that classic skiffle song 'Mama Don't Allow' with the amazing Jive Aces.
(Below) Turn your umbrellas upside down as Adam serenades us with that 1936 American popular song 'Pennies From Heaven'. First introduced by Ba-ba-ba-Bing Crosby in the film of the same name.
"Sometimes I think I was born in the wrong era when it comes to music - You just can't beat those old classics".
- Adam Hoffman -
Adam Hoffman (Professionally keeping the world entertained since 1993)
Sing it from the highest tree, we have a like page go and see! www.facebook/keepcalmandbookus